On a warm sunny June afternoon, the near silence in this solar-powered cabin is broken sporadically by an emergency vehicle dashing to a destination unknown blasting its siren. From time to time the engineers sitting at one end of the solar-powered cabin stare at a bank of monitors and announce their actions. Occasionally, a short snuffle from the pump can be heard as it extracts an orange liquid sealant from a large plastic container. That sealant is headed for the company's CISBOT that has crawled over 700ft (213m) along the gas main operated by SGN under Western Road in Morden, South London.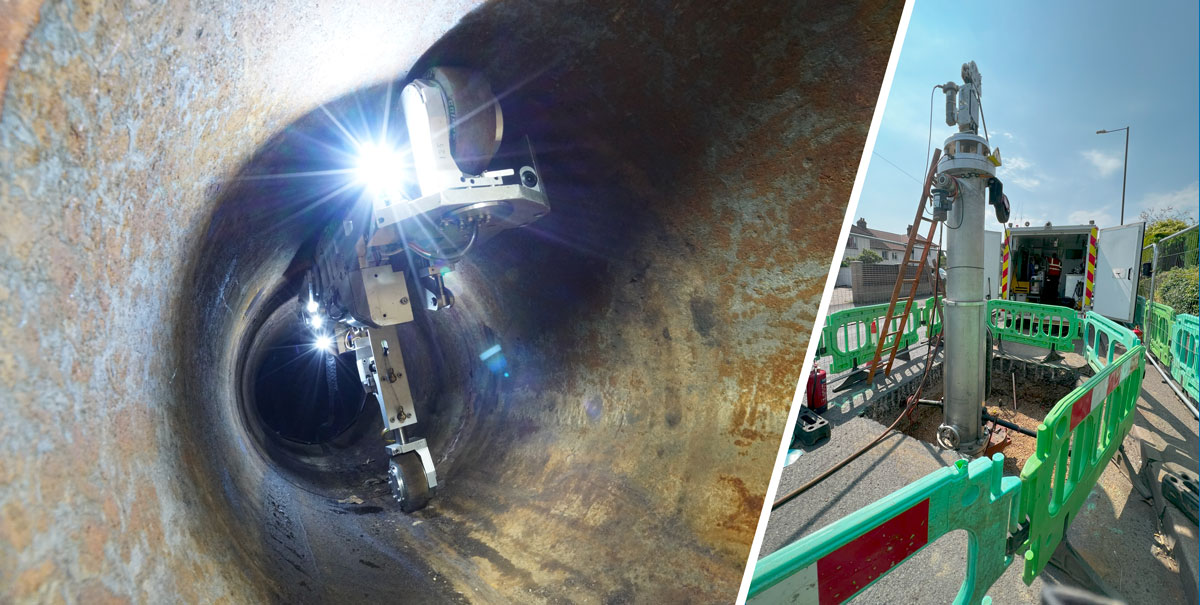 The gas flows uninterrupted below our feet in a low-pressure 24" pipe that was likely installed by Victorians, who manufactured them using high-quality cast iron. To this day these pipes form the backbone of mains gas supply in major towns & cities across the UK, America, and elsewhere.
As the CISBOT made its way early this morning from the vertical launch tube next to the control center, it has mapped every inch of the pipe noting where there are historic plugs and where the gas main has been tapped to allow a connection for a domestic supply. It reached the limit of its tether over 700 ft away and has begun to work its way back—stopping every 12 feet at each joint to ensure they are systematically remediated.
And that's the reason I'm here as a new member of the staff at ULC Technologies. To watch joints being drilled and injected at multiple clock positions on each joint to be remediated. Laser alignment ensures the drill is properly positioned at the joint where it was originally sealed with yarn and molten lead in an era when homes were fed damp town gas – the natural gas of the last five decades is dry. So, to eliminate any possibility of leaks the CISBOT injects a predetermined quantity of sealant into each of the access ports drilled.
Wayne is our lead operator today. He marks his next position to drill with pinpoint accuracy and gently eases the drill into the spigot end of the cast iron main. After 7 years of working on CISBOT projects, he tells me he can feel the feedback from the drill despite the fact that he can only see and hear it on the monitor in front of him. Right on cue the pressure applied penetrates the cast-iron pipe into the yarn behind and the drill is replaced with the sealant nozzle. There is an almost inaudible fizzle in the control center from the sealant delivery vessel as the sealant is pumped directly into the joint material. Adam, who is sitting attentively next to Wayne is assisting. He makes copious notes about every action taken as a comprehensive record for SGN should they need to know anything about their gas main on Western Road and furnishes them with a daily report of progress.
By the close of play, the team has completely sealed 3 joints after initially mapping the route comprehensively. CISBOT is guided back to the launch tube navigating around plugs and taps and is then removed, cleaned, and prepped for the next shift when a further 5 or 6 joints will be remediated.
Most of those driving, cycling, walking, or living along the busy Western Road will have no idea of what is going on beneath their feet. The gas continues to flow without interruption and there is no noise pollution from traditional gas main works. Local residents will hear nothing thanks to the solar panels that have completely powered the control cabin and CISBOT since the launch site was established a few days ago. With long warm, sunny days it is unlikely that the diesel generator will be required as excess solar energy is stored in the on-board batteries in preparation for any overnight work.
As I say goodbye to the crew and walk back to the underground station I marvel at my visit to Western Road. The traffic management has virtually eliminated any hold-ups for road users even at peak times; the work site is less than 66ft (20m) long and it stands silent whether the CISBOT is remediating joints or being maintained by the crew in their cabin before it is set to work again.
This is the future! Little if any disruption, no generators or ongoing excavations causing carbon emissions, and yet in the silence CISBOT is making sure that SGN's cast-iron gas mains are in outstanding working order. Once remediated, they will be ready for decades of service, providing Londoners with the gas to heat their homes and cook their food whether that be natural gas or as many predict, hydrogen within our lifetime. I think those Victorian engineers would be rightly proud of their workmanship and amazed by how ULC Technologies ensures it continues to serve its purpose for future generations.
Written by Robert Prior
ULC Technologies – Marketing & Communications Specialist
June 2023 – Personal thoughts on the visiting Western Road SGN CISBOT site