Autonomous Mobile Robot (AMR): Breaker Racking Robot
ULC Technologies and Con Edison are developing an Autonomous Mobile Robot (AMR) capable of racking medium voltage circuit breakers within electric distribution substations. Close proximity to breakers during the racking in and racking out process can expose workers to arc flash. Additionally, manual handling of heavy circuit breakers can also lead to soft tissue injuries. Through remote-controlled driving and autonomous operations, the Breaker Racking Robot will carry out end-to-end breaker racking and storage to improve worker safety.
Breaker Racking Robot: Process Overview
The Circuit Breaker Racking Robot is currently developed to handle circuit breakers (1200A, 3000A, and Ground and Test Device), but can be expanded in the future to address additional types of breakers.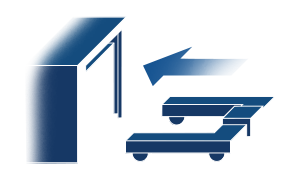 01. Autonomous Alignment
The Breaker Racking Robot utilizes 2D laser scanning and omnidirectional navigation to align itself to the breaker within the cabinet.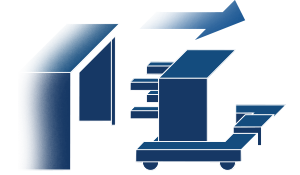 02. Breaker Racking Out
The breaker is racked out, lifted off the ground and secured on the frame of the robot.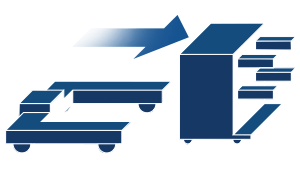 03. Breaker Storage
The robot transports the breaker to a designated storage location and picks up a Ground and Test Device.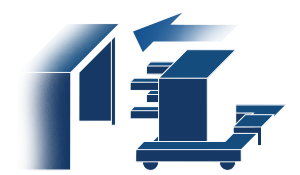 04. Breaker Racking In
The Breaker Racking Robot autonomously aligns itself to the breaker cabinet and remotely racks the breaker or Ground and Test Device.
The robot is equipped with cameras for navigation, breaker identification, monitoring the racking indicator, and alignment with the cabinet. Navigational cameras minimize blind spots and provide the operator with situational awareness.
Obstacle Detection and Collision Avoidance
Equipped with two 2D LiDAR units, the robot can detect obstacles during navigation. If an obstacle is near, the robot will automatically pause operations and the operator is notified through the warning system.
Mecanum wheels on the robot provide omnidirectional navigation making it easier to move in constrained environments within power stations and provide precise alignment for autonomous operations.
Autonomous Breaker Alignment
The Breaker Racking Robot uses Laser Profilers to detect features of breakers and cabinets and autonomously align itself from up to several feet away.
The robot is controlled using a control station and wireless sub-system. The graphical user interface (GUI) provides situational awareness data, real time camera views and push button control.
Versatile and Expandable System
Future development of the autonomous mobile robot will enable this solution to handle a wider variety of breaker models and improve autonomous operations.

ULC Technologies works with leading utility and energy companies to develop and deploy robotic systems, inspection systems, machine learning and technology that helps reduce public disruption, minimizes environmental impact and improves safety.

Con Edison of New York provides electric service to approximately 3.5 million customers and gas service to approximately 1.1 million customers in New York City and Westchester County. The company also provides steam service in parts of Manhattan.
Contact our team to learn how our services support gas main damage prevention, eliminate 3rd party damages and locate stubs.