Cross Bore Inspection Services
X-ID® Cross Bore Detection Services
ULC Technologies, LLC's patent-pending X-ID® Cross Bore Detection technology deploys directly into newly installed or legacy PE gas mains to detect cross bores while eliminating the need to enter sewer mains and laterals.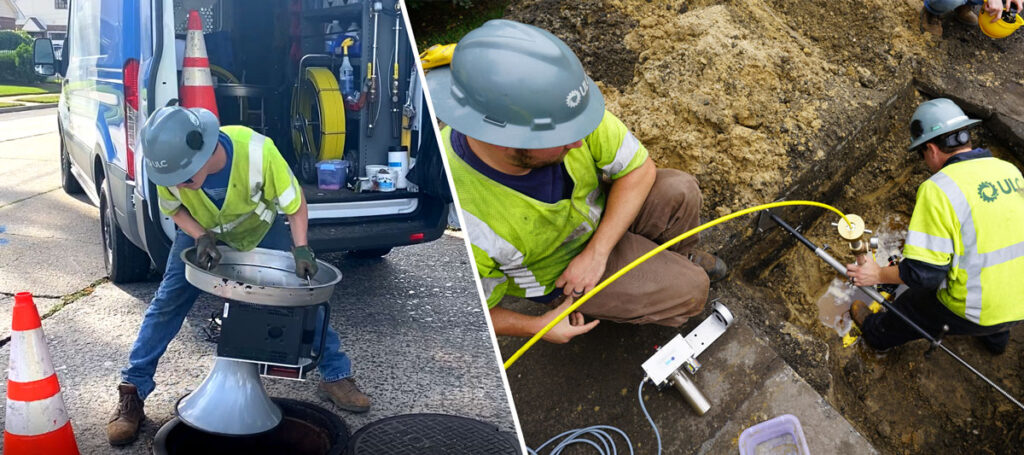 X-ID® Cross Bore Detection
The automated process delivers an accurate location of a cross bore so crews can resolve the issue before gas is introduced.
Our patent pending process is less likely to be hampered by debris within the laterals to reduce inaccessible conditions and increase coverage.
By reducing or eliminating inaccessible conditions, it minimizes the need to excavate along the bore path.
Eliminate Sewer Inspections
Deployed after new HDD installs or to address legacy cross bore inspection programs, our process can minimize dependency on sewer lateral inspections.
Optimal Inspection Environment
The sewer system is a challenging inspection environment due to roots, debris, water, offset pipe and branches. The X-ID sensor is launched into the PE gas main or service, which is cleaner and easier to access.
ULC's sensor can enter live PE gas mains and services to deliver data after gas has been introduced into new HDD installs or in conjunction with legacy programs.
X-ID® Cross Bore Detection
ULC's custom-developed sensor is deployed into the PE gas main or service to listen for the acoustic signal. Our technology can be deployed immediately after HDD before the gas is introduced or it can be deployed in live mains and services to support legacy cross bore inspection programs.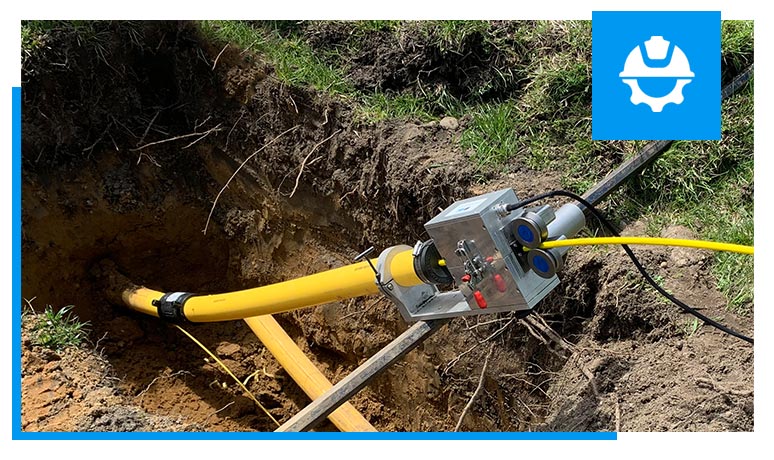 In the event of a cross bore condition where the pipes intersect, the acoustic signal will be captured from within the gas main. This allows our team to accurately detect the presence of a cross bore, including minimal intersection at the top and bottom of the sewer lateral. Data captured by our operator-qualified field crews can also identify near misses within 12 inches of the lateral.
Contact our team to learn more or discuss pilot programs.
X-ID® Cross Bore Detection
The cross bores below were identified using X-ID during our pilot programs and show how our sensor data aligns with actual field conditions.
ULC thanks our partners for providing input and support for the validation, testing and piloting of our X-ID technology.
National Grid delivers energy to more than 20 million people throughout New York, Massachusetts, and Rhode Island.

Pacific Gas and Electric Company is one of the largest combined natural gas and electric energy companies in the US.
Frequently Asked Questions
What is a cross bore?
With over 2 million miles of pipeline in the United States alone, installing new pipelines and updating aging legacy infrastructure by the means of trenchless excavation increases the potential of underground issues. Companies can unknowingly or accidentally drill through existing infrastructure when installing new lines. When the integrity of either of these infrastructures are compromised, whether it's a complete puncture or clips along the top or bottom, this occurrence is known as a cross bore.
How common are cross bores?
The frequency of cross bores is still hard to determine throughout the country due to differences in geographic location. Areas occupied by underground infrastructure all differ in things such as past operating practices, state laws and the population density within that area. With the advancement in sewer camera inspection technologies, detecting cross bores is becoming less of a challenge. Although there have been huge strides over the past 40 years in cross bore mitigation, sewer-based inspection cameras are unable to access upwards of 15-20% of laterals. Our X-ID acoustic sensor will drastically diminish those numbers in the coming years.
Are cross bores dangerous?
The creation of a cross bore creates immediate risk. The cross bore may not be noticed at first, but as time passes, dirt and debris within the lateral can build up and eventually block the sewer line. In the event a crew attempts to clear the line using a cutter, the gas main may rupture and send natural gas into a structure potentially causing an explosion. In 1976, during a routine sewer drain clearing, a gas main was punctured causing an explosion that resulted in 2 casualties, leaving 4 others injured and damages to nearby homes. This incident brought cross bore safety to the forefront, forcing companies to develop risk mitigation plans.
What is cross bore mitigation?
Cross bore mitigation can be defined as the process or actions taken to improve the safety of trenchless gas main and gas service installation and legacy cross bore inspection programs. Mitigation plans may contain guidelines and recommendations for construction crews, contractors, data review, mapping and more. We believe that our X-ID Cross Bore Detection technology will make a positive impact to mitigation plans and improve pipeline safety.
With 20 years of gas utility industry R&D and field operations experience, we have developed an exciting solution for cross bores and are currently working with customers to conduct pilot programs. Start the conversation now.