Robotic Roadworks &
Excavation System
Robotic Roadworks & Excavation System — Revolutionizing Utility Excavation Methods
ULC Technologies, LLC and SGN are developing an advanced, all-electric robotic system to revolutionize the way that roadworks are performed. The Robotic Roadworks and Excavation System (RRES) will replace conventional methods of excavation performed daily by gas networks on transmission and distribution mains and other underground infrastructure.
RRES aims to expand the use of innovative core and vac methods to improve the efficiency of the operation, minimize time in the street and reduce costs.
Using innovating soft-touch excavation technology and methods, artificial intelligence and machine learning, RRES aims to reduce accidental damage to buried utilities.
Automating methods of carrying out works on the distribution and transmission system ensure routine works are completed uniformly with high precision.
RRES will limit the need for utility workers to enter excavation to improve worker safety. Minimized risk of accidental damages also improves public safety.
RRES project sites will take up less space in the street to minimize disruption to communities and local businesses.
By reducing the need for heavy construction vehicles on sites, the RRES project will enable gas networks to reduce carbon emissions.
Robotic Roadworks & Excavation System
Prior to starting excavation, and during the excavation process, RRES uses sensors such as Ground Penetrating Radar and electromagnetic waves to scan the ground to identify buried assets in its excavation path. Advanced AI will be used to detect buried infrastructure and the target assets prior to cutting the road surface.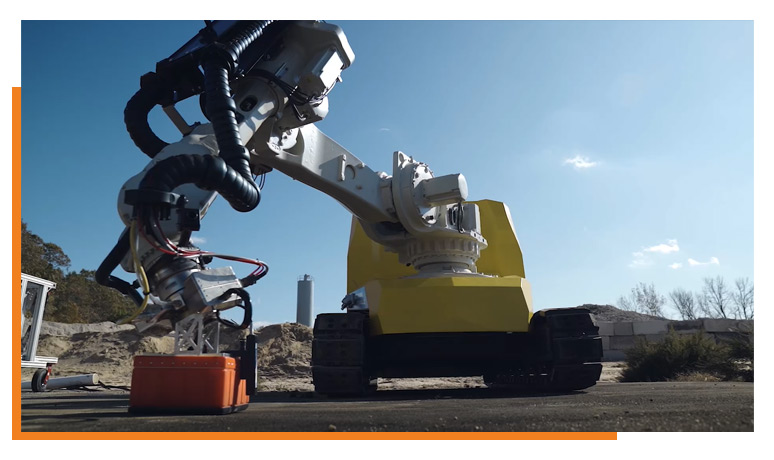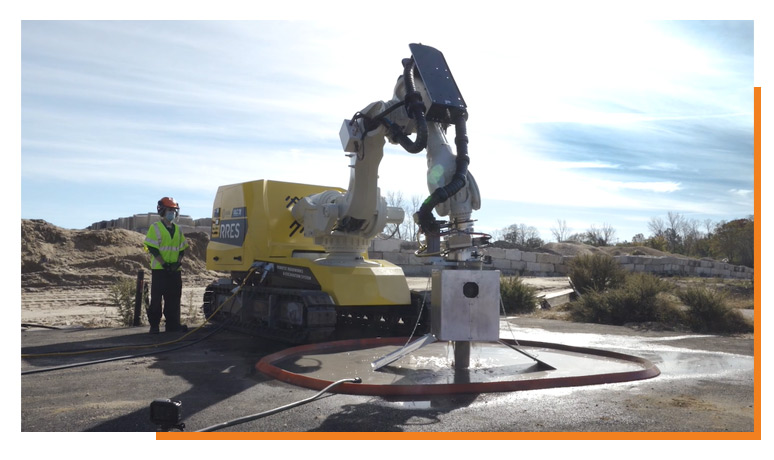 Our team has designed a custom concrete cutting chainsaw for use as an end effector for the robotic arm. This new and unique tool will enable RRES to make flexibly-shaped and sized cuts in a wide array of road surface materials.
Prior to cutting the road surface, RRES drills a small pilot hole in the road. Once the core is cut, this pilot hole is used to lift the core and set it aside. At the end of the project, the core is lifted and set back in place to reduce disturbance to the roadway and maintain their strength and integrity.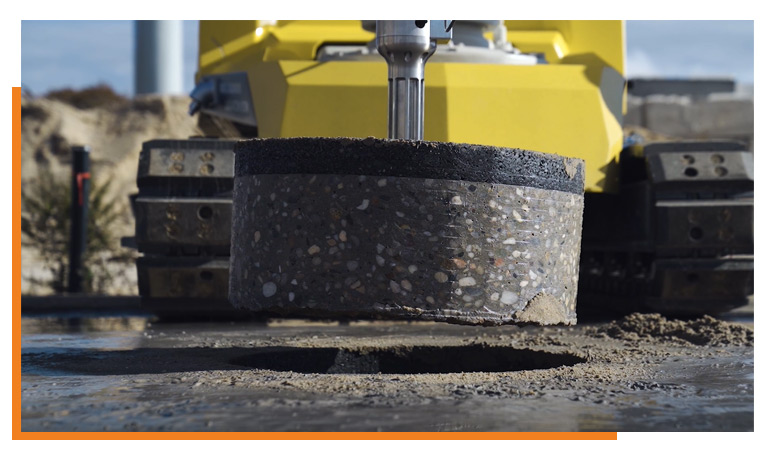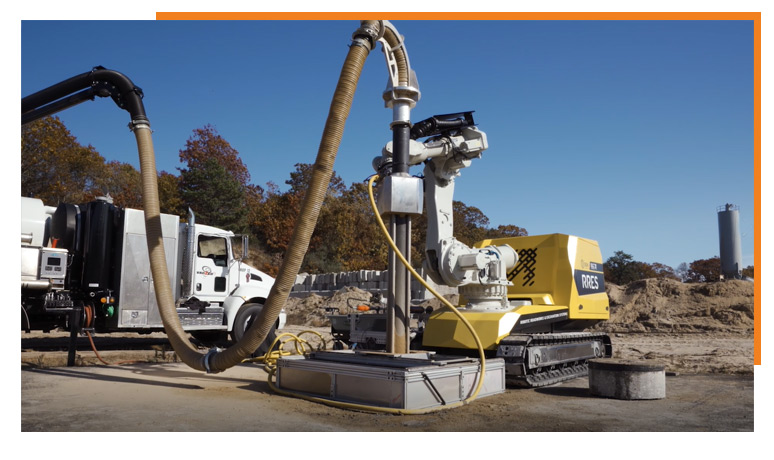 RRES uses a compact, custom-designed vacuum excavation head with integrated super-sonic air nozzles to agitate and remove soil without the risk of damage to buried assets. Machine vision will be used during the excavation process to identify objects and guide activities through the excavated keyhole.
Backfill and Reinstatement
RRES will be equipped with additional end effectors to help backfill the excavation, compress soil and secure the core back in place to complete the end-to-end roadworks process.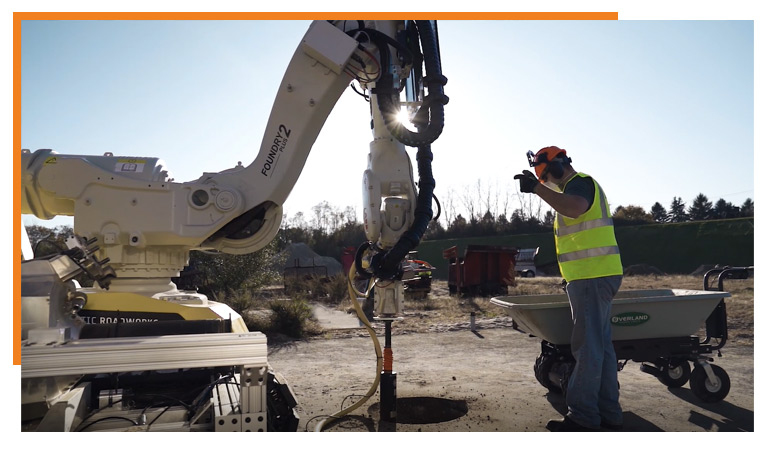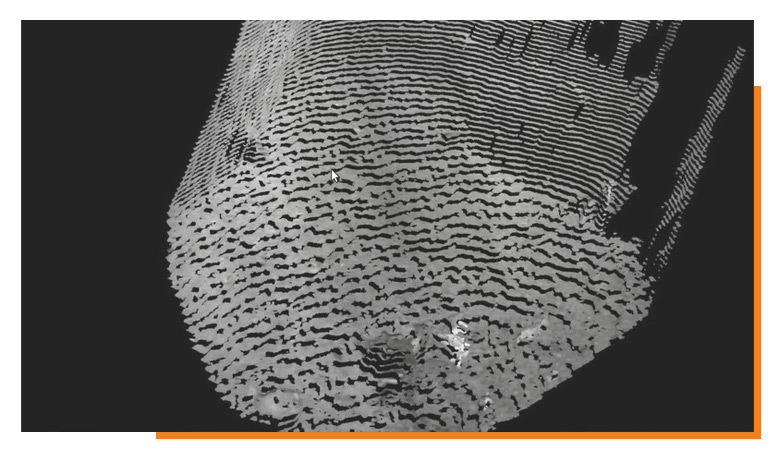 Machine Learning And Machine Vision
In order to embed the RRES with the ability to 'see' its environment, the RRES team is developing 3D visualization techniques to capture 3D point clouds of the excavation and surrounding site.
Connect with our team to learn more about the Robotic Roadworks & Excavation System or get involved in future developments of this technology.

ULC Technologies works with leading utility and energy companies to develop and deploy robotic systems, inspection systems, machine learning and technology that helps reduce public disruption, minimizes environmental impact and improves safety.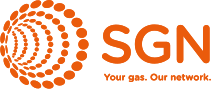 SGN manages the network that distributes natural and green gas to 5.9 million homes and businesses across Scotland and the south of England. Their dedicated and established innovation team manages ideas and opportunities, both from internal and external sources, co-ordinating their evaluation, and prioritising and converting into value propositions projects that align with their innovation strategy.
Leading Innovation. Driving Results.
ULC Technologies develops and deploys robotic systems, smart artificial intelligence processes, and innovative inspection technology for the energy, utility, renewables and industrial sectors.
Talk to our team today: