Since 2001, ULC has been recognised across the industry for developing robotic solutions and innovative processes that revolutionise operations, reduce environmental impact, and minimise disruption. This National Technology Day 2022, we're celebrating some of our greatest technological achievements and the impact they've had on the world we live in today – all thanks to our employees at ULC!
The Robotic Roadworks and Excavation System (RRES)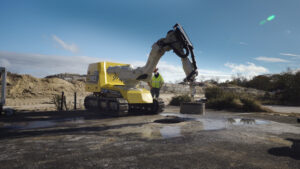 RRES is an all-electric robotic platform developed alongside SGN to revolutionise the way utility companies, energy networks, and other industries carry out roadworks. RRES combines below-ground locating sensors, artificial intelligence, and machine learning to provide safer, faster, and smarter roadworks.
The platform aims to overcome a wide range of challenges faced when conducting traditional utility excavations, including third-party damage, disruption to traffic, and carbon emissions. RRES provides an end-to-end process with less CO2 and a smaller physical footprint than traditional excavation methods to drive towards net-zero.
We're looking forward to seeing RRES in action in the UK this year following a successful field trial in March 2021. In the meantime, you can learn more about RRES by watching the webinar we hosted in 2021.
The Cast Iron Joint Sealing Robot (CISBOT)
Gas distribution utilities who operate and maintain large diameter cast iron mains face the high costs and disruption associated with replacing the pipe as well as the challenges of maintaining these assets.
CISBOT enables gas networks to safely extend the life of bell and spigot (lead/jute) and mechanical joints with no disruption of gas service to customers, reduced environmental impact, and lower costs. This technology has transformed the way gas distribution networks in the UK and U.S. manage critical infrastructure, and to date, our teams have used CISBOT to seal over 100 miles of mechanical and lead-yarn joints.
Want to learn more about our CISBOT technology?  Check out this article.
X-ID Cross Bore Inspection Technology
Cross bores have been identified as a high-level risk to the system integrity of utilities, creating the need for large-scale sewer lateral inspection programs to identify them. Dirt and debris, root intrusion, P-traps, collapsed pipe, offsets, or other obstacles are some of the reasons why traditional inspections have been unsuccessful.
ULC's patent-pending X-ID™ Cross Bore Detection technology deploys directly into newly installed or legacy PE gas mains to detect cross bores while eliminating the need to enter sewer mains and laterals.
So, what other exciting technologies are we creating at ULC this year? Stay updated with our latest technologies by signing up for our newsletter and following us on LinkedIn.