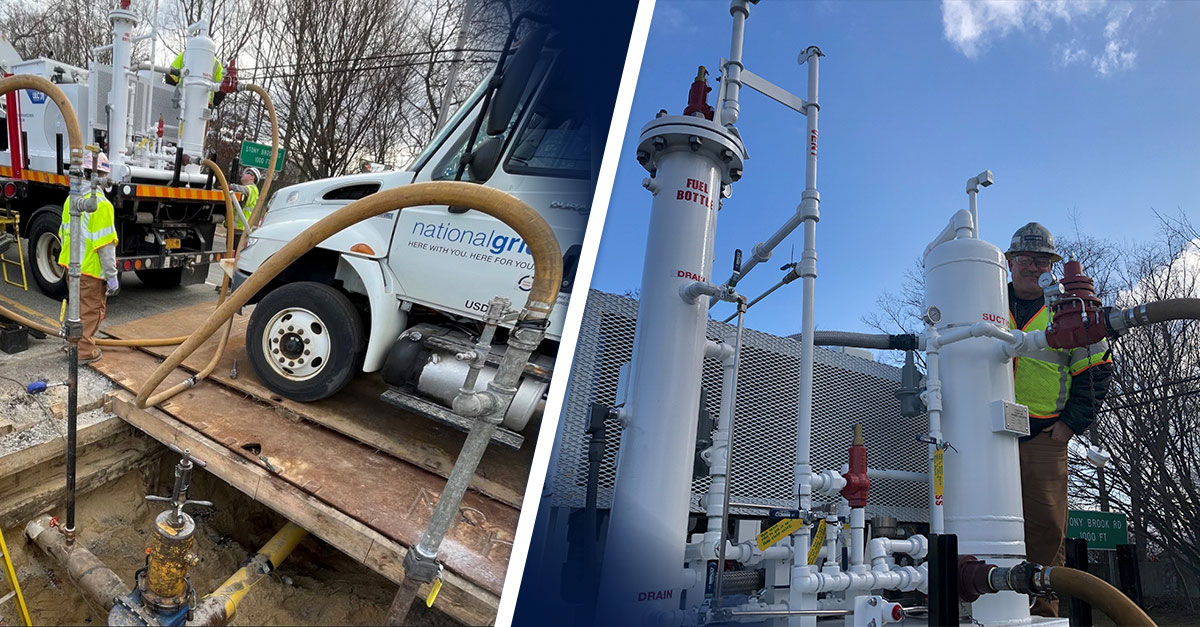 National Grid, like many other leading utility industry leaders, are investing in the decarbonization of their business to better support net zero and ESG goals—as well as make a positive impact to society and customers. For their gas distribution business, eliminating the need to vent natural gas in the atmosphere is a critical step forward in this endeavor.
Drawdown solutions—also referred to as emissions recovery systems—have become important piece of the net zero and ESG solution for gas distribution utilities as they can capture isolated natural gas and inject it back into their active pipeline networks instead of venting or flaring.
After taking delivery of another ULC Technologies' DDC125 Drawdown Compressor product last month, National Grid brought the technology out to a public works project in their Downstate New York territory. The DDC-125 was able to take isolated natural gas from a 12,000ft section of 8" gas main operating at 48psi down to 1/2 psi in just 67 minutes.
"ULC's drawdown compressor is able to handle a wide range of distribution volumes and pressures very efficiently and has become a key part of our environmental strategy," says Erik Klein, Lead Supervisor at National Grid. "Rapid drawdown times also help lower the impact on construction schedules."
More than 13,000 scf of natural gas was recovered during the project, which equivalates to 18.4 metric tons of CO2—the same emissions as 45,854 miles driven by an average gasoline-powered passenger vehicle or the amount of carbon sequestered by 22 acres of U.S. forests for one year.
"National Grid has been using drawdown compressor technology for many years to reduce impact to customers and environment," says Nathan King, Director of Marketing at ULC Technologies. "Our products are helping their teams reduce impact to customers and communities by keeping natural gas in the pipelines."
Learn more about ULC's DDC-125 Drawdown Compressor technology on our website or contact our team to discuss a demonstration.