IMPORTANT INFORMATION ABOUT COVID-19
ULC Robotics provides essential services to our utility customers in the US and UK which helps improve energy system reliability and safety while lowering costs. During this time we are doing all we can to ensure that our teams are able to work safely while continuing to deliver essential services.
ULC Robotics' UK teams are complying with the government's guidance on managing the risk of COVID-19 by carrying out a risk assessment, enhancing cleaning and hygiene procedures, helping people work from home if needed, and ensuring teams can maintain a 2m distance where reasonably practical.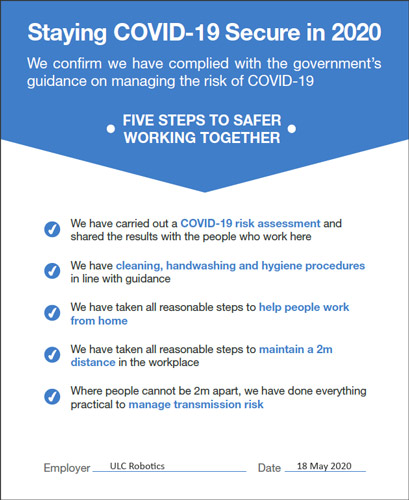 ULC Robotics will continue to monitor and follow the guidelines and best practices accordingly. For further information on our risk assessment or if you have any COVID related questions pertaining to ULC Robotics, please contact us.