With a growing technology portfolio and expanding R&D capabilities, our team are continually advancing their skills by gaining experience operating and deploying our latest innovations.
The Robotic Roadworks and Excavation System (RRES) – a world-first robotic system to revolutionise methods of excavation, utility interaction and reinstatement, made a UK debut earlier this year for field trials on SGN's gas network.
The collaborative project with SGN was in development for 3 years and was built by our U.S. engineering teams at our Hauppauge, NY office. The system uses a precision robotic arm with swappable tooling, integrated artificial intelligence, and machine vision and utilises soft-touch excavation tools. RRES was designed with an "open-source" design to support multiple industries overcome the typical challenges associated with roadworks, promising benefits including improved worker safety, less CO2 emissions, and a smaller physical footprint than traditional excavation methods.
When the platform and the project team reached the UK to begin field trials, our UK CISBOT Technicians Amadeus Smith and Wayne Hargrave had the opportunity to undertake training to operate the system. This involved learning the individual components of RRES, the tooling, the artificial intelligence processes, and data reading.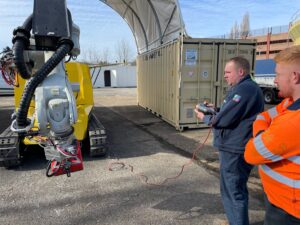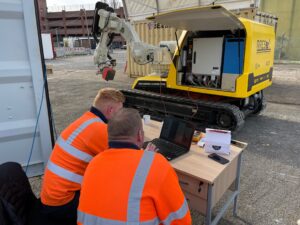 Amadeus Smith, CISBOT Technician, has been a part of our UK field crew since 2020. He joined ULC from the Army where he was a vehicle mechanic. Training and mentoring have played a huge role in Amadeus' job roles, including at ULC where he was mentored by our field service lead operators to use our systems to drive the success of our robotic deployments.
We caught up with Amadeus Smith to see how he felt following his recent training on RRES.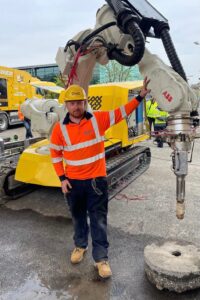 "I initially showed interest in RRES a while before it made its way over to the UK when it was in development. I always assumed someone with more experience within the company would be put on the project to operate the robot in the UK, so when I found out I was going to be involved I was excited, and I couldn't wait to learn about our new platform and learn new skills along the way."
"During the RRES training, I learnt a lot about how the pendant works which is essentially the main user interface for the robot as well as how the components of the platform works as a whole."
The RRES system is equipped with various end effectors including a below ground GPR scanning tool, core removal device, and road cutting toolhead. Amadeus said during training had also learnt about the "future possibilities for expanding RRES's capabilities and tools to support more industries overcome their challenges associated with roadworks."
"During my time working on RRES I ended up doing a sizeable amount of electrical diagnostics and repair as well as learning the very basics in coding which I am now researching and doing online courses in my own time to become more useful in future projects."
Regarding challenges that arose during training, he said "the main challenge encountered was the timeframe which was cut short due to post-shipping repairs and testing to recalibrate the system."
We also asked what Amadeus' favourite moment working on RRES was: "My favourite moments working on RRES would have to be just spending time with Ali Asmari, RRES Project Lead, and the project team from the US. It was just a great laugh throughout and the mentoring was perfect for the timescales they had!"
"Finally seeing RRES in person, learning how it works and its capabilities gave me a great sense of appreciation of all the hard work that has gone into building it. All the efforts from the R&D team, engineers and marketing team have massively paid off to produce such a great robot."