CISBOT Rehabilitates Gas Main Along Bus Route in Brighton UK
Western Road is one of the busiest streets in Brighton, UK – accommodating more than  200,000 buses per year in addition to passenger vehicles, commercial vehicles and pedestrian traffic. ULC Robotics' CISBOT technology was utilised to rehabilitate a 20" diameter low pressure cast iron gas main for SGN.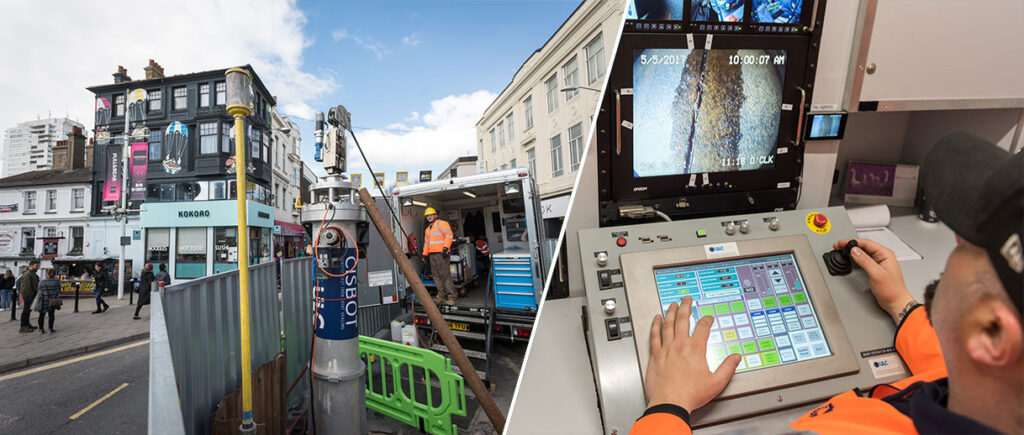 Industry: Gas Distribution
Location: Brighton, England
Client: SGN
Main Diameter: 20″ Cast Iron, Low Pressure
Business Areas Addressed:
Results:
CISBOT reduced excavation—minimising disruption to bus and vehicle traffic
Small site footprint and low noise did not disrupt local businesses and residents
Project finished in five weeks; one week shorter than expected
Proactive joint sealing minimises the need for future leak repair and maintenance
No disruption of gas service to residents and businesses
Project Description
In addition to being in the centre of a busy commercial district, Western Road hosts an average of 4,700 vehicles per day – or over 1.7 million per year. As 12% of those vehicles consists of bus traffic, the road represents a major transportation hub in Brighton. Traditional pipeline repair or replacement may require complete lane closures or full closures of the road—posing a serious risk of disrupting traffic and businesses.
Instead of trenching the road or making numerous excavations, CISBOT internal cast iron joint repair enables the rehabilitation  of up to 110 joints through one small excavation in the road. Through the excavation along the side of Western Road, CISBOT launched into the live 20" low pressure cast iron gas main to rehabilitate a total of 72 leak-prone joints in SGN's gas network.
ULC's robot operators were able to position the CISBOT robot at each joint to drill an access hole through the spigot—providing a means for the robot to inject a sealant directly into the jute at four positions around every joint. Using the robot's onboard cameras and sensors, the robot operator monitored drill speed and injection pressure throughout the joint rehabilitation process and was able to visually monitor the sealant wicking around the joint gap.
The first half of the project was completed in 2017 with the final portion of the project set for completion next year at the request of local authorities.
"CISBOT's computer controlled drilling and injection process was able to deliver SGN highly efficient and effective joint rehabilitation while minimising costly and disruptive excavation. CISBOT's drilling and injection method with anaerobic sealant has a 50-year life.  Prior to CISBOT, the only methods to repair joints using sealants were through external anaerobic injection or internal spraying which historically have higher failure rates.  By using CISBOT, SGN is nearly eliminating the risk of gas leaks for the next five decades."
Graeme Cleeton, VP of UK Operations, ULC Robotics
Results
72 large diameter cast iron joints rehabilitated through one small excavation
Avoidance of costs and disruption associated with traditional maintenance and leak-repair methods
Enabled gas network to upgrade gas main while maintaining a high level of customer satisfaction
Reduced excavation costs associated with traditional techniques
Protected joint from risk of leak for up to 50 years
Contact our team to talk about your next project.