Live Gas Main Inspection Aids in Resolving Water Intrusion Issues
Low pressure gas distribution mains are notorious for taking on water due to heavy rains or flooding. When Central Hudson Gas and Electric was notified of a gas outage, ULC Technologies was called to help locate the blockage and investigate the source of the water intrusion.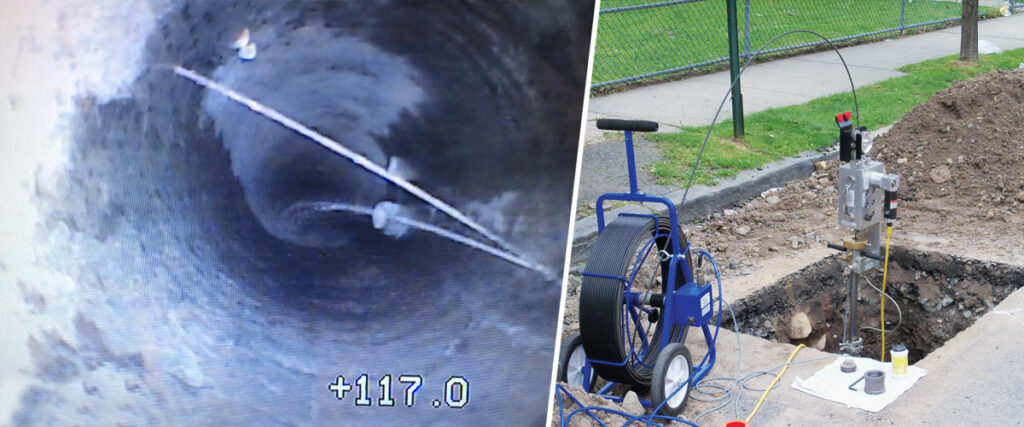 Industry: Gas Distribution
Location: Newburgh, N.Y.
Client: Central Hudson Gas and Electric
Business Areas Addressed:
Water Intrusion of Low Pressure Gas Main
Project Description
Prior to arriving at the job site, utility crews excavated two compact camera entry pits and prepared the main with the necessary fittings and valves. These two camera entry pits would enable ULC crews to inspect the entire length of pipe to locate the blockages and investigate the source of the water intrusion.
Using the patented PRX250 Live Gas Main Inspection Camera System, ULC Technologies' field crew was able to insert the camera into the live, low pressure main from both entry points, which were approximately 300 ft apart in distance. ULC crews identified the low point where the water was collecting in the pipe. Using a specialized version of our innovative camera system, our crews were able to pinpoint the location of the blockage from above ground – providing the utility with an efficient means of excavating directly over the issue to extract the water.
Internal visual inspection of the gas main enabled ULC crews to follow the trail of water to identify exactly where and how the water was coming into the main, which was located 436 feet away from the blockage. The location of the water intrusion point was also marked on the street surface for efficient repair to resolve the water intrusion issue quickly.
Project Benefits:
Reduced guesswork through internal identification of blockage and water intrusion point
Enabled more efficient repair to resolve the issue quickly
More efficient restoration of gas service
Avoiding unnecessary excavation and restoration of the street
Ensured all blockages were identified before utility crews left site
Eliminated follow up visits due to reoccurring water issues
Contact us to learn more about our Live Gas Main Inspection Services or PRX250 Live Gas Main Inspection Camera System.
Contact our team to talk about your next project.